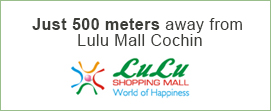 | | |
| --- | --- |
| Call us now : | 0484 - 3062103 |
| | 0484 - 3198737 |

Palm Grove Service Villa is a budget accommodation located at Edappally, Cochin, Kerala -God's own country. This property is situated directly off NH -47. It's got a calm and serene atmosphere which makes it a perfect place for a relaxed stay. It is an ideal place to unwind. It is suitable for long stays for writers and artists.

Kochi (Cochin) is situated in the breathtakingly scenic state of Kerala -which is also known as God's own country. Kerala is one of the 50 must see places in the world selected by National geographic society. Kochi is Kerala's prime tourist destination which spreads across islands between the Arabian Sea and the backwaters. Kerala is also one of the thirteen paradises in the world.